---
Drivers like you rely on working brakes to stay safe on the road every day. The service technicians here at Subaru of Mobile can help keep your brakes in proper working order for years and miles to come. We proudly serve drivers throughout the Mobile, Daphne, or Fairhope, AL, areas.
You can learn more about brake repairs, signs you need brake service, and more about our services below. As you read ahead, feel free to contact our service center to speak with one of our brake repair experts and schedule an appointment!
---
Most Common Types of Automotive Brake Repairs
Brake service can range from routine maintenance to serious, in-depth repairs. There are lots of parts that work together to stop your car. That said, bringing a vehicle to a complete stop is hard work and over time, your brakes will need some TLC and, eventually, parts will need to be replaced or repaired.
Time frames for brake repairs will range depending on the type of brake service or repairs your vehicle needs. Some of the most common brakes services our certified technicians frequently perform often include:
| | |
| --- | --- |
| Service | Estimated Time |
| Brake pad replacement | 30 minutes to 1 hour |
| Brake fluid refill | 15 to 30 minutes |
| Brake line inspection | 30 minutes or less |
| Cracked brake rotor replacement | 30 minutes to 1 hour |
For certain types of brake service and maintenance like a brake fluid top off or inspection, you can visit one of our express service lanes, so you can get back behind the wheel as quickly as possible.
---
Tips for Keeping Your Vehicle's Brakes in Good Working Condition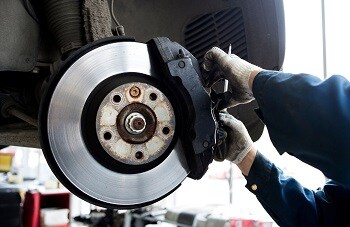 One way to stay on top of your brake service is by having the different components inspected periodically. As a good rule of thumb, you should have your brakes inspected about every 6 months.
Along with that, be sure to follow the recommendations in your vehicle's maintenance manual. It includes specific guidelines and mileage intervals for when to schedule specific types of service, including those for all the components of your brakes. Though it varies by model, in general, you should have your brake pads replaced between every 20,000 and 60,000 miles.
---
How Car Brakes Work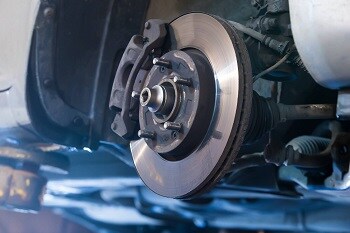 Brakes use pressure and friction to both slow your vehicle down and stop it. When you step on the brake pedal, the main cylinder forces brake fluid out to your wheels. It travels through the brake lines with the same pressure that you applied.
The brake fluid ends up in a set of calipers or clamps. Each one of your wheels has a set that hovers above the rotors in your wheels. Once the brake fluid arrives, these clamp down on the rotors with the same amount of force you used when you stepped on the pedal.
If you've got a vehicle with exposed brake calipers, you may notice that both the calipers and the rotors are made of metal. The reason you don't hear metal grinding on metal when you use the brakes is because of your brake pads.
They're attached to the inside of your calipers and are designed to create friction when they make contact with the rotors. This friction slows the rotors down and results in your car slowing down.
---
Signs Your Vehicle Needs Brake Maintenance or Repair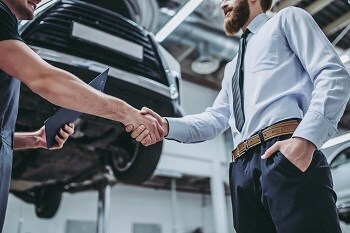 The most infamous sign of bad brakes is that unmistakable squeaking sound. Believe it or not, this is actually by design. Over time, that friction will cause your brake pads to wear down. Most brake pads are built with a small indicator tab inside them. When the tab makes contact with the rotors, it causes your brakes to squeak.
While that acts as a helpful maintenance reminder, there are some other signs to look out for. Here are a few other signs you can look out for that indicate your vehicle requires brake maintenance or repairs:
Dashboard Lights-If there's a malfunction with your brake system, a light on your dashboard should turn on. It will usually say either the word BRAKE or the letters ABS.
Pulling to One Side-Your vehicle may need brake repairs if it feels different than normal, too. For example, if it's drifting to one side of the road or your pedal is stuck, you may either need new brake fluid or there may be a problem with your brake lines.
Unusual Vibrations-If you step on the brakes and the steering wheel starts vibrating, you may have a cracked rotor.
If you notice any of these signs, the best thing to do is to bring your vehicle in as soon as possible. That way, you can mitigate anything further that may occur down the line and address things soon after they arise. This can help extend the life of your car and keep you and your passengers safer along the way.
---
Our Certified Subaru Service Center & Comprehensive Automotive Services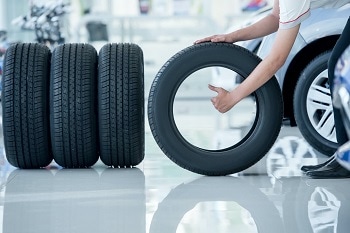 When you bring your vehicle to our service center for brake repairs, we'll use only original equipment manufacturer (OEM) parts to ensure a perfect fit with the other components of your trusted daily driver. In addition to our comprehensive brake service and maintenance, we also offer other types of service including the following and much more:
Wheel alignments
Battery tests
AC/heat repairs
If your vehicle has more than one part that needs to be inspected, serviced, or repaired, we can address them while we tend to your braking system too.
After-Hours Drop-Off
For your convenience, we have an after-hours drop-off option, so you can bring your vehicle in whenever it works best for your schedule. Once you drop it off, we'll be in touch and keep you updated on the brake service or repair process.
Service & Parts Specials
We also offer a rotating selection of service and parts specials, so be sure to check back often to see what we currently have going on at our service center.
---
Where Can I Schedule Brake Service & Repairs near Me?
When your vehicle needs brake repair near Mobile, Daphne, and Fairhope, Alabama, schedule service with Subaru of Mobile. Our service center has a team of certified Subaru technicians who can take care of everything from replacing your brake pads to fixing or replacing a cracked rotor. We look forward to giving your car the brake care it and you deserve!
---